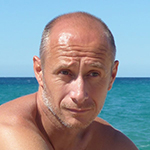 Jean-Damien BERGERON
Chief Operating Officer / Head of QHSE
In it, on it, under it, or right beside it, Jean-Damien BERGERON never strays very far from the sea.
It was his love of spear-fishing and surfing that inspired him to become a Marine Biologist. A professional diver most at home at the bottom of the sea, Jean-Damien now works with ABYSSA, as head of deep marine environment studies.
As Jean-Claude Izzo wrote, "Being born in Marseille is never an accident." Growing up in the city on the Mediterranean coast, Jean-Damien BERGERON's playground was The Big Blue. Scuba-diving and spear-fishing made him aware of the beauty of aquatic fauna, inspiring his love of the deep. How could he ever spend his life in a dull office job after that? Jean-Damien was determined to do what he loved most. After studying Biology at Aix-Marseille and in chilly Montreal, he returned home to the Mediterranean, first studying at the Centre d'Océanologie de Marseille, and then, in 2002, taking a postgraduate diploma in Mediterranean coastal ecosystems in Corsica.
Armed with his speargun, surf boards and VW van, Jean-Damien BERGERON then headed north to train at Ifremer in Brest (Brittany), where he specialised in sclerochronology in aquatic fauna. It was while he was in Brest that Jean-Damien heard about the Consortium of International Consultants set up by the United Nations to study the impact of the Gulf War (1990-1991) on Kuwait's marine resources. Intrigued, the young academic was sent on his first campaign, soon to be followed by many others. These included expeditions at sea lasting several weeks that were to leave their mark, working with people from different backgrounds and different nationalities, learning the skills required of the Marine Biologist on the job and, in particular, put in charge of fishing campaigns. In 2003, he was in Kuwait when the Second Gulf War broke out, forcing him to pack up and leave.
Back in France, in 2006, he joined CREOCEAN to carry out research on the Mediterranean, based at the Créocéan PACA-Corsica agency. He also took his professional diving certificates at this time.
Jean-Marc SORNIN, CEO of CREOCEAN, assigned him to work on a succession of different long-term projects in the Middle East, taking water and sediment samples, drawing up underwater inventories, conducting coral transplantation operations and environmental studies, etc.
Answering the call of the surf, he was about to settle in Southwest France when a new opportunity arose. In 2010, CREOCEAN offered him the chance to head the Carribean agency, the agency previously set up and developed by none other than Michel COLINET! The experience lasted five years, enabling him to add new strings, including team management and business development, to his (cross)bow.
Given his achievements there, in 2015, CREOCEAN then gave him the opportunity to set up his own agency in Southwest France (at last!), in Bayonne. In 2018, just as he was wondering what the next step in his career might be, Morgane RAVILLY, Jean-Marc SORNIN and Michel COLINET got in touch. The MELODI project team were looking for a specialist in marine ecosystems and marine environment studies to work with them in setting up ABYSSA. With 18 years' experience in short- and long-term environmental monitoring in France and worldwide, and a total of 680 days on campaigns at sea, Jean-Damien ticked all the boxes! Excited by the prospect of this new venture and of working as part of this team, as well as exploring the ocean depths (the dream of every free-diver!), he joined ABYSSA in 2019. His aim is to make ABYSSA useful, by building a deeper understanding of hitherto unknown territories and ecosystems.